Jessica Biel Loves Justin's Jeans!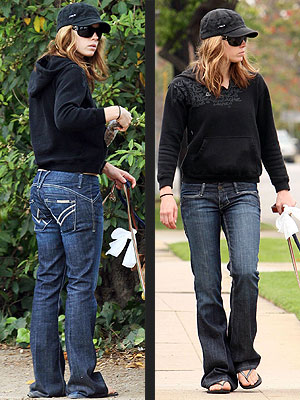 There have been a lot of whispers about Jessica Biel and Justin Timberlake over the last few months, but one thing's for sure — the actress definitely loves his jeans. While walking her two pooches this week in L.A., Jessica sported her new favorite denim, the Savoy in Evening Wash from Justin's successful William Rast line. And it isn't the first time that we've seen the buff star wearing the pair. They must be really great jeans — Timberlake's ex Cameron Diaz is still wearing her William Rast post-breakup. Maybe it's time to amend the slogan to "nothing gets between me and my William Rast". . . Get your own pair for $242 at nordstrom.com.
Click here to see more photos, news and a full bio of Jessica Biel, and click here to discuss her style in Off the Rack.
Photo: ramey(2)