Ready to Be a Blakergirl?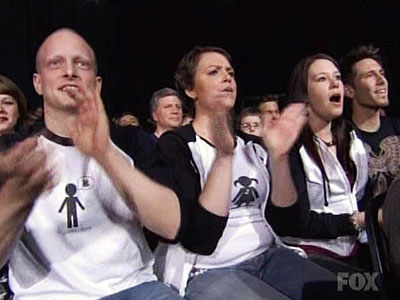 To show their support for American Idol finalist Blake Lewis, the Seattle-based singer's cheering squad has been sporting shirts emblazoned with "Blaker Girl" or "Blaker Boy" across the chest when they attend the show. Inspired by former Laker Girl Paula Abdul, Blake's childhood friend Kristi Redman, along with other friends, got serious about making pro-Blake paraphernalia as the singer kept advancing in the competition. Now t-shirts ranging from $15 to $20 along with baby onesies, buttons and hats are available on blakergirls.com with 50 percent of the proceeds going to the Children's Hospital and Regional Medical Center in Seattle, in honor of Blake's friend Brad and Brad's girlfriend Heather, who were both diagnosed with lymphoma within two months of each other. Redman notes, "It was really important to [Blake] now that he has this platform to do something positive in addition to all that he's doing on American Idol."
To read more on Blake and everything American Idol, check out our blog.
: