Salma Hayek's Marital Brand Loyalty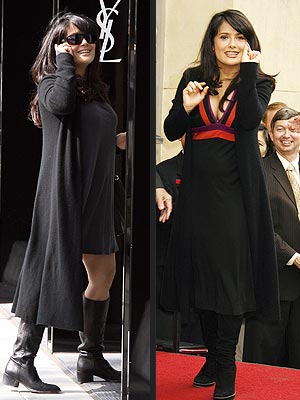 When news broke that Salma Hayek was engaged and pregnant, we were all thrilled for her — and secretly jealous of the amazing wardrobe that comes with being married to Henri-Francois Pinault. The French businessman is the president of PPR, which owns such luxury brands as Gucci, Yves Saint Laurent, Bottega Veneta, Boucheron, Alexander McQueen, Stella McCartney and Sergio Rossi. So is it any wonder that Salma is already showing brand loyalty to her fiancé? We spotted her in a Gucci dress while presenting Ugly Betty star Vanessa Williams a star on the Hollywood Walk of Fame. And the next day, she hit the YSL store in Beverly Hills for a little retail therapy. All we can say is this is bound to be one super-stylish pregnancy!
Click here to read more about your favorite expectant stars in Off the Rack.
Photo: FAME; NPX/starmax