Fashion Faceoff: Lindsay vs. Jamie-Lynn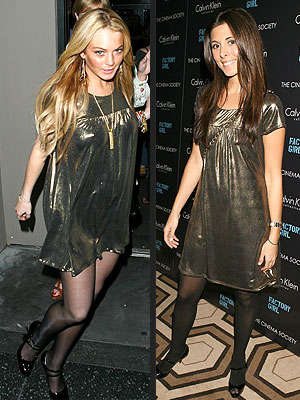 When we saw Jamie-Lynn Sigler wearing her gold dress to a Factory Girl screening in January, we thought how adorable and easy-to-wear the frock was. But when we saw Lindsay Lohan wearing an identical dress out on the town in L.A., we thought it's a fashion faceoff! But, with a little bit of digging (actually a lot of digging and emails later), we found out that while the dresses look the same, they are actually by two different designers! Lindsay's dress is by ABS, while Jamie-Lynn's is by small designer label Fighting Eel — but are virtually the same, down to the shoulder seats and ruching above the bust. Well, in the name of a good fashion faceoff, we say it's close enough to ask the question: Who wears it better? Lindsay or Jamie-Lynn?
Buy Jamie-Lynn's Fighting Eel dress for $150 at rafaelhawaii.com.
Photo: Phamous Fotos/Splash News; Dave Allocca/startraks