Dustin Hoffman's Wife Launches Skincare Line!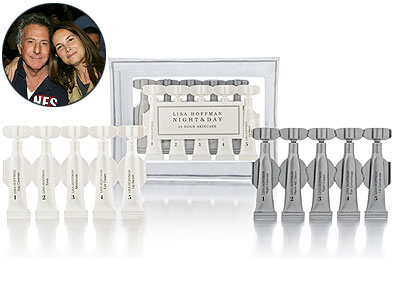 Of all of the celebrity wives who you'd imagine doing a skin care line, Dustin Hoffman's wife Lisa really got it right. All those years traveling with Dustin from movie set to movie set — and trying to pack all the jars and bottles and tubs of her skin care regimen — clearly paid off with her wickedly innovative line, designed for to be super easy to toss in your bag when you travel. At the recent launch party at L.A.'s Fred Segal, a whole host of male stars — including Sasha Baron Cohen, Jeremy Piven and Mark Ruffalo — showed up to celebrate. Who knew they were such beauty buffs? Our favorite product is the Night & Day 24 Hour Skincare packets, $20, each of which includes a cleanser, moisturizer, toner, eye cream, and lip serum for both night and day. Check out her whole line at lisahoffmanskincare.com.
Click here for more of the best Beauty ideas in Off the Rack.
Photo: Michael Buckner/Getty