StyleWatch Picks the New Scents for Spring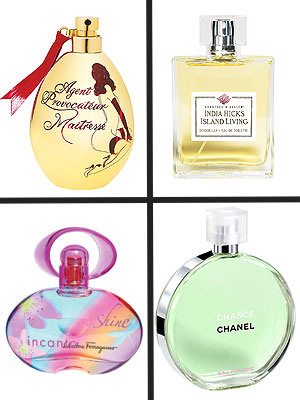 In the April StyleWatch issue, on newsstands now, our tireless beauty editors rounded up the hottest new fragrances — and we are already addicted to four of them!. If you like a sexy scent, try the seriously seductive Agent Provocateur's Maitresse, which combines a masculine wood scent with an oriental musk, $80, at bloomingdales.com. Ready for the beach? Try Crabtree & Evelyn India Hicks Island Living Spider Lily, $50, at crabtree-evelyn.com, which actually smells like the breeze rippling through palm fronds. If you like fruit notes, try Salvatore Ferragamo's Incanto — a perfect everyday scent that is a yummy cocktail of pineapple and passion fruit, $57, at sephora.com. If you like light florals, try Chanel's Chance Eau Frache– a spring spin on the original Chance fragrance — iris and jasmine are layered on top of the signature grapefruit note, $75, at chanel.com. Tell us: Are you looking for a new spring fragrance? Do you switch for the seasons?
For everything you need to know about spring beauty and fashion, pick up StyleWatch on newsstands now.
Photo: alex cao