What Was Kirsten Dunst Thinking?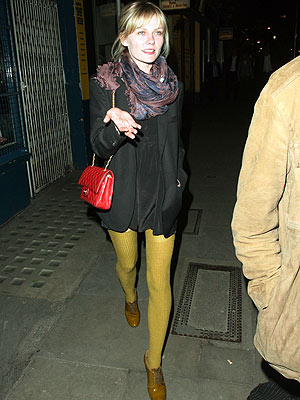 Never mind the new guy, Johnny Borrell of the British band Razorlight. What we can't get over is what Kirsten was thinking when she put together her pub-hopping outfit on Tuesday night. Let's start with the obvious — yellow thigh-highs with orthopedic oxfords? A dress that's so short that it qualifies as a shirt? And the clashing bright-red Chanel purse and maroon floral scarf? Oh, Kirsten. We're all for mix-and-matching, and London is the right place to try out eccentric fashion choices … but we can't help but think that you've missed the mark on this one. Tell us: What do you think of Kirsten's oufit? Would you ever wear it?
Click here to see more photos, news and a full bio of Kirsten Dunst, and click here to discuss her style in Off the Rack.
Photo: BBH Pictures