Will Ferrell: What's Under His Spandex Skating Suits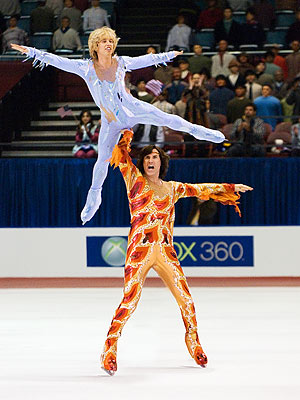 Will Ferrell has never been one to shy away from revealing costumes in the name of a good laugh (count how many times you have seen him in his white briefs onscreen). And in his latest role as a disgraced figure skater in Blades of Glory, Will embraces his inner Ice Capader in second-skin spandex suits. When we asked about the, um, chaffing issue with the costumes, Will told us, "It's not the Lycra. That's the secret. It's the dance belt. Have you worn a dance belt? Try it for like twelve hours. It's not fun. The material goes right up your butt crack but there are no panty lines. So it's beautiful." And don't think the wise-guy has retired it. He (hopefully) joked, "Pretty much [still wearing it everyday]. Not for anything on camera. Just for my own personal life. Even when I'm wearing baggy jeans. I see a difference. Just in case." Let's hope this is one premiere where he doesn't show up in costume.
Click here to read more about Will and your other favorite guys in Off the Rack.
Photo: Suzanne Hanover/paramount