Jennifer Lopez: Is This Look A Hit or A Miss?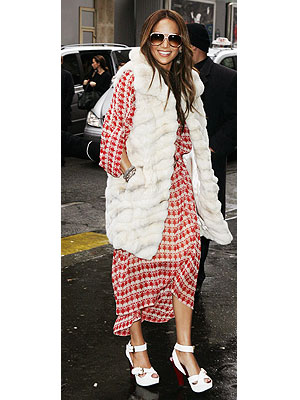 Jennifer Lopez never ceases to amaze us with her inventive style — screen siren sexy one day, sweet and demure the next. And today's outfit in Paris is no exception. Clad in a white fur vest, a skull-printed Thomas Wylde caftan and towering white leather and wood platform heels, the singer arrived to an instore appearance at the mobbed Virgin Megastore on the Champs-Elysees. Her fans went wild to see her, and one Parisian woman observed that it was "a very 60's Bohemian look, but honestly it looks great on her." There is a lot going on in this outfit (there is a chain belt and mega-bling under that vest) but if anyone can pull it off, it's J. Lo. Tell us: What do you think of J. Lo's outfit? Is it a hit or a miss?
Click here to see more photos, news and a full bio of Jennifer Lopez, and click here to discuss her style in Off the Rack.
Photo: Pascal Le Segretain/Getty