Lakisha Jones's Million Dollar Diamonds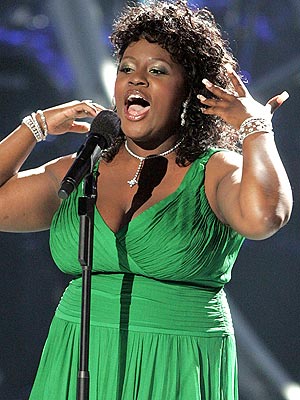 Lakisha Jones's performance of the Shirley Bassey classic "Diamonds Are Forever" may not have blown away the judges on last night's American Idol, but her million dollars' worth of Kwiat diamonds certainly did. Paula Adbul called Lakisha a "smart girl" for knowing that singing about diamonds means someone will loan you the real thing. And the real thing they were! Kwiat provided the singer with a $150,000 26-carat diamond necklace, a $250,000 diamond brooch worn in her hair, a three-carat ring worth $10,000 and those multiple bracelets with almost 100 carats of diamonds! Whew. And Lakisha should get used to it: It's just a taste of the borrowed red-carpet bling she'll surely be wearing someday.
Can't get enough of AI? Click here for Everything Idol.
Photo: Frank Micelotta/Getty