Are You A Trend-Slave Like Ugly Betty's Amanda?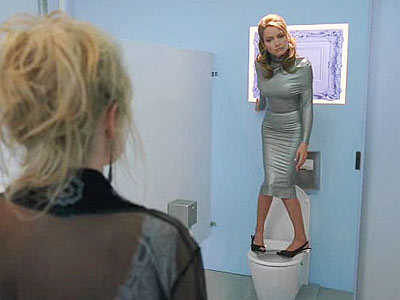 Last night's episode of Ugly Betty literally had us convulsing with laughter when snarky receptionist Amanda (Becki Newton) donned an outfit that looked more like a torture device than a dress. After being told she was avant-garde designer Oswald Lorenzo's new "muse," Amanda was presented with an original creation (named after her, no less) which she immediately slithered into. Once it was on, she couldn't move her arms or walk without looking like a duck. As Lorenzo's "assistant" explained, "fashion is a pain."
We're all slaves to fashion sometimes — blister-inducing stilettos, insanely skinny skirts, bags that weigh down our shoulders — but we want to know: How much of a trend-slave are you? If you were given a one-of-a-kind creation would you wear it, even if it was a pain? What's the farthest you would go to suffer for fashion?
Photo: Courtesy ABC