Reese Witherspoon Says No More Pink!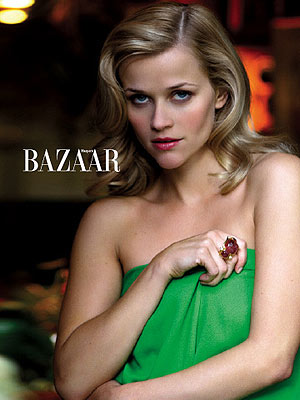 It's nice to know that Reese Witherspoon has wardrobe dilemmas like rest of us. "I recently put a big pile of clothes on the floor of my closet, and I looked at a lot of the stuff and thought, 'That's not me at all! What was I thinking?'" the Oscar winning actress tells Harper's Bazaar in the magazine's new issue. "[For Legally Blonde] I went through a pink phase like you wouldn't belieeeve," says the actress who recently made a big statement in a yellow Nina Ricci dress at the Golden Globes. "Then there was a Marni phase when I was doing Sweet Home Alabama that was out of control." Gracing the cover of Bazaar's "Look Great At Every Age" issue, the newly single mom says she celebrated her big three-oh birthday last spring "playing Boggle and eating fried chicken" with her friends. And, as it turns out, being a Friend-of-Reese's comes with more perks than mere Boggle matches. "I give away a lot of shoes. It's really nice to be me. And it's really nice to be my friend who has the same shoe size."
Get more news, photos and a full bio of Reese Witherspoon here at PEOPLE.com.
Photo: Courtesy Harper's Bazaar