The Scoop On Carmen Electra's Runway Tumble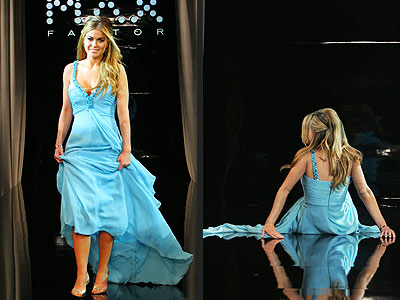 Carmen Electra had some pre-show jitters before the the Max Factor Salutes Hollywood Fashion Show to benefit Clothes off Our Back. She warned everyone (including fellow celeb strutters Denise Richards and Kristen Cavallari), "Be careful, ladies – it's slippery!" Hoping to avoid a spill, stylist Nicole Chavez, padded the bottoms of their Stuart Weitzman three-inch heels and sprayed them with hairspray and ginger ale so they would have some traction. Unfortunately, that didn't stop Carmen from taking a tumble during her second trip down the runway (in a blue Kevin Hall gown). When Days of Our Lives' star Allison Sweeney, tried to help her up, Sweeney fell too! (Don't worry, both were fine afterwards.) To avoid more falls, Chavez ordered them to finish the show with heels in hands. Chavez, who styles Rachel Bilson and Ashlee Simpson, says the decision made all the difference, "When the shoes came off, their personalities came out and it was fun." The head-to-toe looks from the show will be up for auction on Clothes off Our Back starting March 16.
Read more about Carmen Electra in today's news story here.
Photo:Michael Williams/startraks; Mark Mainz/Getty