Tori Spelling Pulls Off a No Maternity Clothes Pregnancy!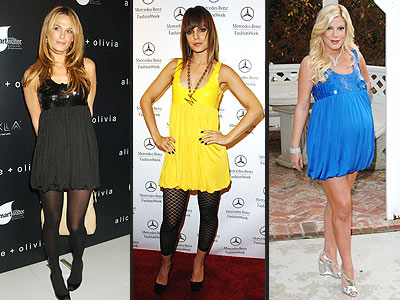 Chalk it up to tent dresses, oversize tunics, empire waists and the other voluminous fashion trends of this year, but Tori Spelling has made it almost to the end of her pregnancy without switching to maternity wear. We've gotten the giggles over her endless fashion faceoffs with non-pregnant stars (like Mena Suvari and Molly Sims), but it is remarkable! Sure, Tori started out as a tiny size two so she had a few sizes to expand into, but she can't be alone in her decision to skip the maternity section. Will other pregnant stars like Naomi Watts and Salma Hayek follow her lead? Will the rest of us be mistaken for being pregnant in our billowing sundresses?
Expecting or not, everyone looks good in this paillette-topped Alice+Olivia bubble dress. Get your own in yellow at nordstrom.com, $295.
Photo: JOY E. SCHELLER/LFI; Jason Kempin/FilmMagic; Craig Barritt/jpistudios