Get the Look: Tyra Bank's PEOPLE Cover One-Piece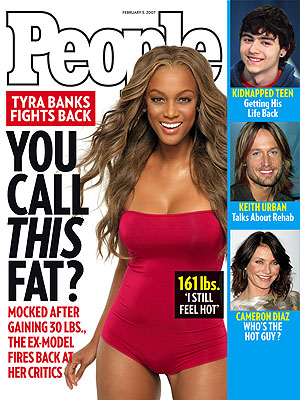 We got a ton of reader requests asking how to buy the red leotard that Tyra Banks wore on the cover of PEOPLE Magazine defending her weight gain. For that photoshoot, the former model showed off her curves in a skin tight red Rachel Pally leotard; for the taping of her Feb 26th talk show — which had the entire audience donning one-pieces — Banks selected a darker red version of the same suit. Readers eager to get the suit, which looks great on women of all shapes and sizes, will have to wait just a bit longer: Rachel Pally's summer 2007 line will not be available until May on shopbop.com. (Unfortunately, the darker one was specially desgined for Tyra and will not be sold). You can get the same leotard right now at shopbop.com, $92, in brown, black, blue and deep purple.
Read all the posts about Tyra and her PEOPLE cover, here.