Jake Gyllenhaal Inspires Sis Maggie's Shopping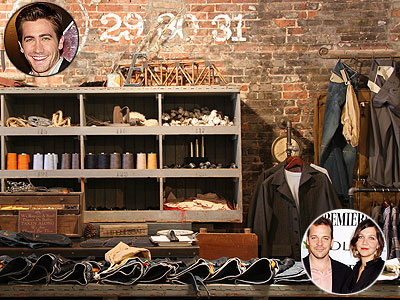 It's always sweet when siblings appreciate each other's taste, but in the case of the exceptionally talented and charming Gyllenhaals, it's extra adorable. While big sis Maggie was wowing on the Oscars red carpet, Jake was in New York shopping up a storm at celeb-fave An Earnest Cut & Sew, denim brand Earnest Sewn's store in the trendy Meatpacking district. But this week, Maggie returned by herself to pick up the exact same items as Jake — as birthday gifts for fiancé Peter Sarsgaard. Unfortunately, the store had already sold out of the Andrews flannel shirt that Jake had purchased, but Maggie still managed to snag a limited edition Filson Rucksack, a Davidson Cap and a Wilson Neckwarmer for her sweetheart. At least the boys won't match at family gatherings!
Can't get enough of Jake? Click here for more news, photos, and a full biography of Jake Gyllenhaal.
Photo: Joseph Marzullo / Retna; Vince Flores/celebrity photo