Scarlett Johansson -- Girl With a Monogrammed Handbag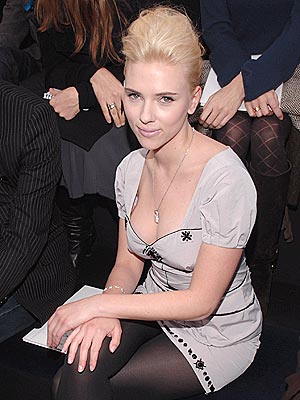 Actress, designer, muse — what isn't Scarlett Johansson these days? Sunday, the star (and current model for the house) sat front row at a Louis Vuitton show designer Marc Jacobs said was partly inspired by her. The designer called his latest collection -– inspired by Dutch painter Johannes Vermeer — Girl With a Monogrammed Handbag, a reference to Girl With a Pearl Earring, whose title character was played by Johansson. "Scarlett's a great girl," Jacobs told PEOPLE backstage after the show. "I love her. She's totally cool and sexy." Johansson returned the compliment, pronouncing Jacobs's show "beautiful," and "so wearable." The actress, who appears in Louis Vuitton ads, also said: "I love the whimsy." She spent the show – held in a sweltering tent in the Louvre courtyard in Paris – chatting to Antoine Arnault, the 27-year-old son of LVMH president Bernard Arnault, who was seated next to her. Jacobs decribed the show as "romance, but we wanted it bold." Sounds like a description of Scarlett herself.
Click here to see more photos, news and a bio on Scarlett Johansson.
Photo: Abaca