Who Was Oscar's Most Dashing Guy?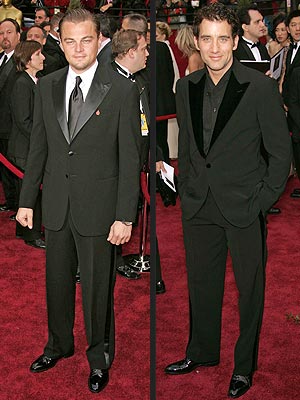 Watching all the lovely gowns float down the red carpet was a lot of fun, but our hearts didn't truly skip a beat until we caught a glimpse of Mr. Clive Owen looking debonair his Georgio Armani black-on-black tux with velvet lapels and — gasp — no tie! Most other gentleman kept their looks very traditional, none more perfectly presented than Leonardo DiCaprio, also in Armani, in his exquisitely tailored suit. Diego Luna and Gael Garcia pushed the envelope just slightly, opting for black suits with skinny ties instead of tuxes. While nominee Peter O'Toole showed just a bit o' spunk in a black-and-purple brocade smoking jacket. But tell us, which Oscar guy is best dressed in your eyes? Clive? Leo? Will? Let us know what you think here!
Click here to see all the Best Dresses of the night, and for more of the latest news and gossip on the Oscars, check out our Red Carpet Confidential blog.
Photo: Goff/INF (2)