Which Look Do You Like For Penelope: Oscars Gown or Party Dress?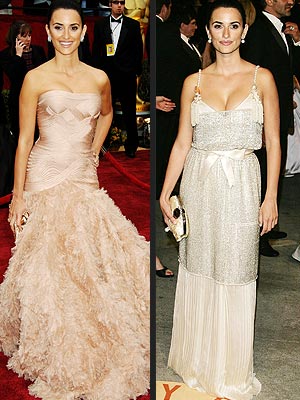 Penelope Cruz was one of the undisputed standouts of the Oscar red carpet in her elaborte Atelier Versace gown. But the Spanish beauty changed out of the shredded chiffon floor-sweeper into a pearl and crystal encrusted Chanel Couture dress for the Vanity Fair party after the show that we're just not as sure about. Penelope rarely mis-steps, but the Chanel dress doesn't seem as flattering to us. Tell us: Which look do you like better for Penelope? Her Oscar gown or her after-party dress?
Click here to vote on Penelope, Kirsten and more in our Oscar Looks: Love It or Hate It gallery. And for more of the latest news and gossip on the Academy Awards, check out our Red Carpet Confidential blog.
Photo: Gilbert Flores celebrity photo; GRAHAM WHITBY/ALLSTAR/GLOBE PHOTOS