Katie Holmes' Stone-Studded Updo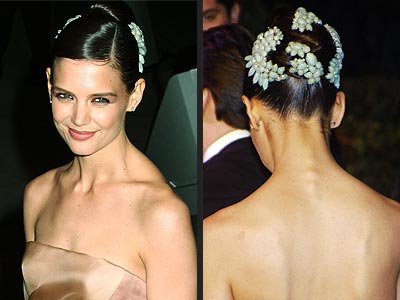 While others were deciding between long straight hair or retro curls — Katie Holmes had a more original idea in mind for her Oscars night updo. To accessorize her soft blush-toned Armani Prive dress, the actress added stone embellishments around her slicked back bun. And if those pale green stones look a touch familiar, they also graced Beyonce's Armani Prive dress as well. We think the flash of pastel looks lovely against Katie's dark hair, and it's always nice to see something a little outside the norm that actually works! Will this be the next big trend?
Click here to see more Oscar Beauty Favorites. And for more of the latest news and gossip on the Academy Awards, check out our Red Carpet Confidential blog.
Photo:Amelia / Hutchins Photo; Chris Corts / WENN