What Tie Should Leo Wear to the Oscars?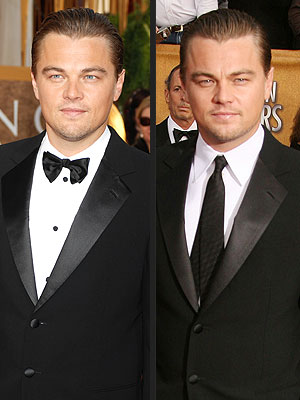 With all of his nominations for both Blood Diamond and The Departed this award season, Leonardo DiCaprio sure has had plenty of reasons to trot out the formalwear. And he's demonstrated his love of classic tuxedoed looks — no splashes of inappropriate color, bolo ties or Jeremy Irons-like dandy style here — opting for elegant black ties at each affair. At the Golden Globes ceremony in January, DiCaprio sported a classic black bowtie, while at the Screen Actors Guild Awards, only two weeks later, he opted for a trendier long tie. This begs the question: What should Leo wear to the traditionally buttoned-up Academy Awards? Would you prefer to see him in a bowtie or a long tie? Or should he try something totally new and different?
Click here to see more Red Carpet Fashion in Off the Rack. And for more of the latest news and gossip on the award shows, check out our Red Carpet Confidential blog.
Photo: Jen Lowery/startraks; Frank Trapper/Corbis