Beauty Trendwatch: Deep Red Lips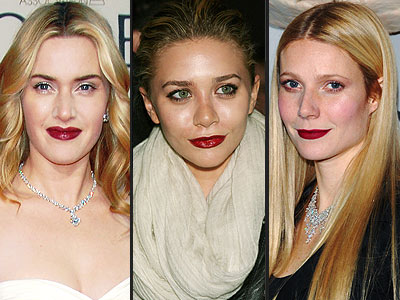 We've been spotting red lips pop up on everyone from Cameron Diaz to Beyonce, but some stars are taking the look one step further with a dark crimson. More dramatic and edgy than the old Hollywood scarlet lips, these dark reds are turning up on the mouths of trendsetters like Kate Winslet, Ashley Olsen and Gwyneth Paltrow. Not for the weak of heart or the imperfect of skin, a color this dark has to be worn carefully — try a nude lip liner underneath to keep it from creeping and a hit of blush to keep you from looking like Elvira is key. Just remember to keep eye makeup to a minimum to amp up the hit of color on your mouth.
Click here to see more Red Carpet Beauty Trends in our gallery.
Photo: Sara De Boer / Retna; Travis Farrell/WireImage; Chance Yeh/PatrickMcMullan/Sipa Press