Helen Mirren's Acting Secret: Padded Knickers!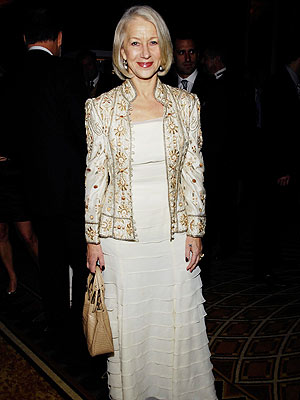 Honoree Helen Mirren, who received the Distinguished Actor Award 2007 at Saturday night's 9th Annual Costume Designers Guild Awards Gala, was rumored to be sick when she was a no-show on the red carpet. She snuck inside with her husband Taylor Hackford, who witnessed his wife receive a standing ovation from the adoring crowd. Mirren admitted – as she's admitted many times before – that she cried when she first saw her wardrobe for The Queen, saying, "I can't be the person who wants to wear these clothes!" But she credits her costume designer, Consolata Boyle who picked up an award (Excellence in Contemporary Film), too, for making the costume as beautiful on the inside before adding, "Of course padded knickers helped!"
Click here to see more Red Carpet Fashion in Off the Rack. And for more of the latest news and gossip on the award shows, check out our Red Carpet Confidential blog.
Photo:Amanda Edwards/Getty