It's a Shoe Off! Gwen Stefani vs. Jennifer Lopez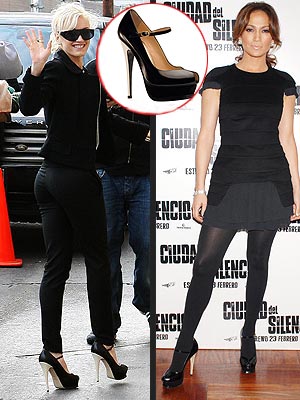 Fashion faceoffs are typically a whole look — a dress, a coat — but when you are talking about women as stylish and trendsetting as Gwen Stefani and Jennifer Lopez, it's worth talking about how they wear the same accessoriies. Both women headed out this week wearing one of spring's hottest shoes, the towering six inch YSL Tribute pumps. Gwen wore hers with trim black slacks to a taping of The Jimmy Kimmel show, while Jennifer paired hers with black tights and a deconstructed minidress during a photocall for her new film Bordertown in Madrid. We are amazing at what a difference the tights and hemlines make — and that they can both move so well in such high heels! Tell us: Who do you think wears the pump better? Gwen Stefani or Jennifer Lopez?
Click here to see more Fashion Faceoffs in our Gallery.
Photo: PHAMOUS/Most Wanted/Flynet; RAMEY