Mariah vs. Posh: Whose Airport Look Is Better?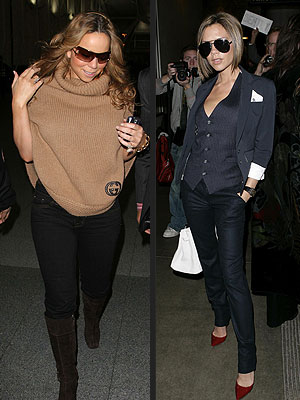 For most of us, travel outfits involve slip-off shoes for security and a comfy sweatsuit for falling asleep in the plane. But for diva Mariah Carey and fashionista Victoria Beckham, the airport is just another opportunity to look glam. Mariah entered JFK airport in New York in a Gucci poncho and slim black jeans tucked into boots — with designer sunglasses and flawlessly curled hair, no less. Arriving at LAX, Posh also wore her skinny jeans and heels, pairing them with a menswear vest and blazer (and a not-so-practical white Hermes Birkin bag). We love that these ladies get dressed up for every occasion, no matter what. Tell us: Whose airport look do you like better? Mariah or Posh?
Click here to read more about Mariah in Off the Rack, and click here for more Posh.
Photo: Turgeon/Rocke/INF; ramey