Which Simpson Sister's LBD Do You Like Better: Jessica or Ashlee?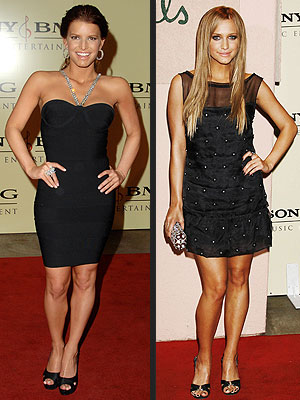 When the Simpson girls turned up at the Sony/BMG post-Grammy party, a few things became apparent — Jessica and John Mayer are definitely a couple, Ashlee is now the blonde in the family, and the girls share a taste for wearing little black dresses on the red carpet. Newly brunette Jessica turned up in a super-slinky vintage minidress with a crystal halter, while little sis Ashlee went for a swingier D&G chiffon frock with crystal accents. Two sisters, two black dresses that sparkle — and two totally different looks. Tell us: Whose little black dress do you prefer? Jessica or Ashlee?
Click here for more photos and the full scoop on the Grammys party scene in our Red Carpet Confidential blog.
Photo: Jon Kopaloff/FilmMagic; NPX/starmax