Buy Maria Bello's Dress For Charity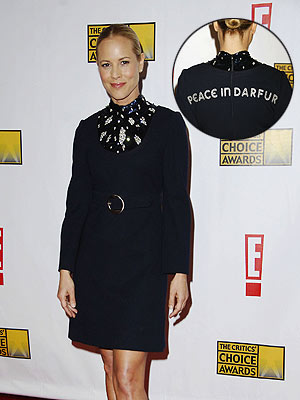 When Maria Bello attended the Critic's Choice Awards a few weeks ago, she made more than a fashion statement, wearing a vintage Galanos dress that she had emblazoned with the words "Peace in Darfur." At the time, she told PEOPLE that she would auction off the dress to benefit Save the Children, an organization that aids disadvantaged children in 42 countries. But it turns out, she hadn't secured a way of auctioning it off, and Clothes Off Our Back stepped in to help. You can now find Maria's dress up for auction on their site (click here to go directly to her page), along with thirty other award show gowns from actresses like Meryl Streep, Maggie Gyllenhaal and America Ferrera. Click here to view the entire 2007 Spring Award Show Auction.
To get the scoop on who's wearing what to all the award shows, see our Red Carpet section.
Photo: Michael Germana/Everett Collection; Russell Einhorn/Splash News