How Nelly Furtado Is Getting Ready for the Grammys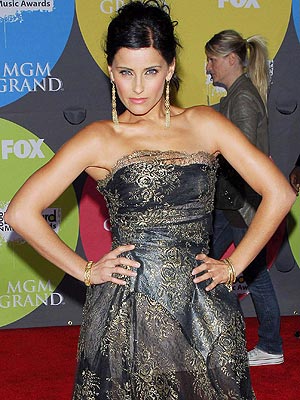 How does the pop nominee prepare for a Grammy night that includes red carpet close-ups, a high-energy performance and late-night parties? Furtado—along with hairstylist Laini Reeves and makeup artist Colleen Creighton— gave PEOPLE the scoop. Eschewing a nutritionist or personal trainer, Furtado stocks up on fresh fruit, steamed veggies and water two weeks before the show and tones by rehearsing for her upcoming "Get Loose" tour. "The dancing is a great all-over body workout," says the singer, who favors Liftoff energy drink for quick pick-me-ups. Reeves uses Kérastase Nutritive Lait Nutri-Sculpt on Furtado's hair, since throat-irritating hairspray is usually off-limits: "Her hair responds better with the least amount of product." For the red carpet, Creighton uses softer makeup on the star, like Shu Uemura sheer face powder. At performance time, she adds extra coats of Giorgio Armani mascara. To turn up the glam for afterparties, Creighton dabs MAC Lustreglass lip gloss in Instant Gold on the star's lips and curls her lashes with a Shu Uemura Eyelash Curler. And most importantly, "I just want to look hot all the time," says Furtado.
For all the award show gossip, check in with our Red Carpet Confidential blog.
Photo: Giulio Marcocchi/Sipa