Paris Hilton: Better Sexy or Conservative?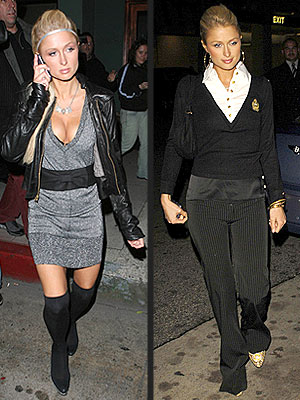 Same restaurant (ultra-hip Mr. Chow's in Beverly Hills), same week, two totally different looks for Paris Hilton. On Friday, the aspiring actress hit the post eatery with on-again boyfriend Stavros Niarchos in a bosom-baring silver minidress and thigh high stockings. But on Monday, the heiress dressed in a conservative, almost-preppy buttondown and black slacks while dining with BFF Nicole Richie. Is the difference in outfit attributable to the difference in dining companions — hot date vs. girls' night out? Tell us: Should Paris stick to sexy or conservative?
Click here to read more about Paris Hilton in Off the Rack.
Photo: AlphaX/X17, Adrian Varnedoe, A. Than/Pacific Coast News