Red Carpet Trendwatch: Short Dresses at the SAGs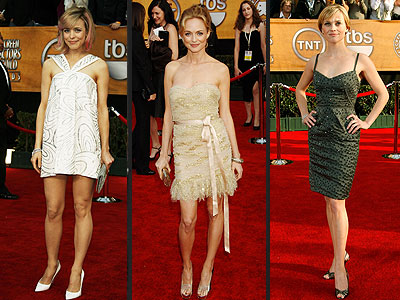 Usually when you talk about red carpet fashion, "gown" is the operative word — long, sweeping, floor-grazing gowns. But this year, there have been more frocks, party dresses and even minidresses on the red carpet than ever before! It started at the Globes with Reese Witherspoon, Sarah Jessica Parker and Renee Zellweger all wearing dresses just below-the knee. But at the SAGs, the hemlines crept up even more. From Rachel McAdams's super-short white trapeze to Heather Graham's gilded Oscar de la Renta to Reese's sexy sparkling sheath, there were more than a few stars showing off their well-toned legs on the red carpet. As with any style, some were successful, while others stumbled (Heather: if you can describe them as "stripper shoes," leave them at home). Tell us: What do you think of short dresses on the red carpet? Are they fresh-looking or inappropriate?
See all the SAG behind-the-scenes and after-party fun at our Red Carpet special!