What's Jada Pinkett Smith Got On Under Her Dress?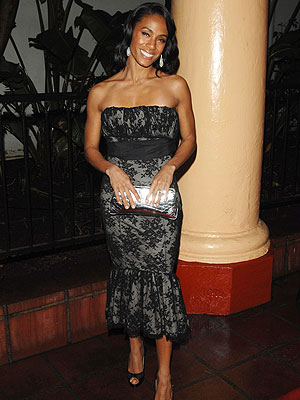 Jada Pinkett Smith invariably looks so great on the red carpet, that we had to ask what her secret was. As husband Will Smith was being honored at the Santa Barbara International Film Festival on Saturday, Jad revealed to PEOPLE that she has two secret weapons: "I wear one of those elastic waist cinchers sometimes. You would not believe how small these dresses are! That and La Perla [lingerie]. Well, the La Perla's not for the awards show, it's for after. But that always helps to feel pretty underneath too. The other thing you have to make sure is that your skin is in good condition. There's a lot of touching and kissing and hugging, so you have to be soft and smell good. I use Carol's Daughter products. They are the best. They make your skin so soft, it's like velvet and they smell great too, which is just as important." If only getting arms like hers was as easy!
For all the award show gossip, check in with our Red Carpet Confidential blog.
Photo: Kirkland / AFF