Natasha Richardson's Dress Deja Vu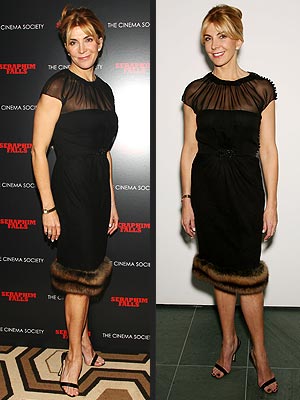 At this week's NYC premiere of hubby Liam Neeson's new film Seraphim Falls, Natasha Richardson looked beautiful and elegant — and more than a little bit familiar. Not only had she worn her J. Mendel fur-trimmed frock to the premiere of her mother's film Venus back in December, but she even accesorized it the same way with strappy heels and a soft updo. At the Venus premiere, Richardson told PEOPLE of her dress, "[Designer Gilles Mendel] came up with this fabulous dress for The White Countess premiere, and he sent me a great dress for the Dreamgirls premiere, so I went and bought this." We think Natasha looked great both times, and why not wear a dress to events twice — especially if you paid for it? So, tell us: What do you think? Should more stars wear their dresses again to events?
See our weekly I Really Love My… gallery for pieces that the stars love to wear again, and again.
Photo: Sylvain Gaboury/FilmMagic; Marion Curtis/Startraks