Best Dressed at Sundance? Zooey Deschanel!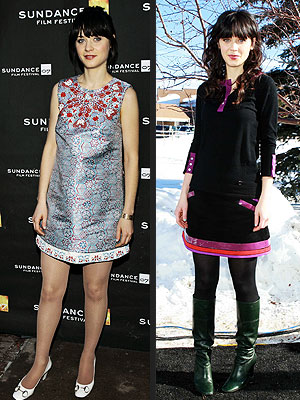 Most of the actresses that PEOPLE has talked to at Sundance have bemoaned how hard it is to look cute in the frigid conditions (the wind chill in Park City is in the single digits), but Zooey Deschanel is managing to rise above the temperatures and still look as adorable as ever. No Ugg boots and parkas for this actress, who is at the festival promoting her new film The Good Life. From her shimmering silver sheath and white horse-bit pumps to her green boots and striped knit dress, this actress isn't sacrificing any of her signature vintage style for comfort — and we think she looks just great. Tell us: what do you think of Zooey's style?
Wanna know more about Sundance? Check out our Red Carpet Confidential blog for the scoop on all your favorite stars in Park City.
Photo: carolyn kaster/ap; Roger Wong/INF