Sundance Must-Have: Neutral Knit Beanies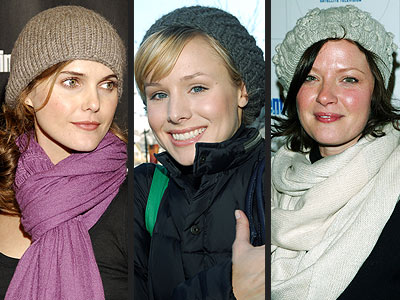 Besides supporting independent films, Sundance is not exactly your typical film festival. While starlets swan around Cannes and Venice in gorgeous gowns, actresses hit the streets of Park City, UT clad in fuzzy boots, tucked-in jeans, ski parkas — and this year, it seems there is one hat that everyone must have! Stars Keri Russell, Gretchen Mol, Kristen Bell, Sienna Miller and Famke Janssen have already been spotted in cozy beanies in neutral shades from oatmeal to gray. Now this is a trend we can get behind — wearable, weather-appropriate, and affordable! The only question that remains: What to do about hat-head?
Check back every day this week for more Sundance coverage on Off the Rack.
Photo: Dan Gorder/FilmMagic;Michael Tompkins/FilmMagic;Peter Kramer/Getty