Are the Simpson Sisters Morphing Into Each Other?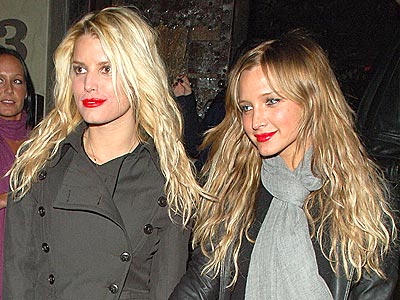 We haven't seen the Simpson girls out together in a while, with little sister Ashlee vacationing in Hawaii and Jessica laying low after ringing in the New Year with John Mayer. The other night, the sisters hit L.A. hotspot Koi, and we couldn't help but notice how much they look like each other! Are they taking cues from another famous set of sisters? We know that their styles have been converging for a while — with Jessica getting punkier and Ashlee getting girlier — but with their long wavy blond hair, bright red lipstick and black coats, they look so shockingly similar! We like the girls when they stick to their own style guns. Do you like their similar looks? Or do you miss their radically different tastes?
Click here for more on Jessica, and click here for more on Ashlee in Off the Rack.
Photo: Chris Wolf/FilmMagic