What Was Mary-Kate Thinking?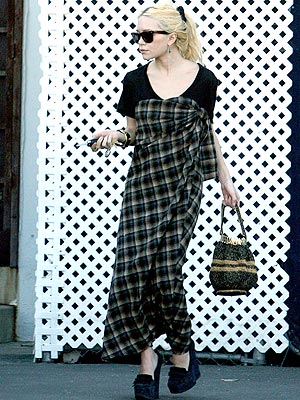 If you're asking yourself what is that wrapped around Mary-Kate Olsen — a tablecloth? a blanket? a grunge-inspired toga? — you're not the only one. Turns out that it's actually a $1700 wool wrap dress from the Marc Jacobs fall collection. We have some serious doubts about the dress itself, but combined with the naughty-librarian platform loafers and a beaded evening bag, it's a head-scratcher of a look. We won't even talk about the scrunchie in her hair. All in all, we think that no mega-bucks designer dress should ever be confused for a hastily tossed-on blanket. Tell us: What do you think of Mary-Kate's outfit?
Click here to vote on Mary-Kate, along with stars like J. Lo and Jennifer Hudson, in our Hit or Miss gallery.
Photo: celebritybabylon