Will Katie Teach Posh How To Be a California Girl?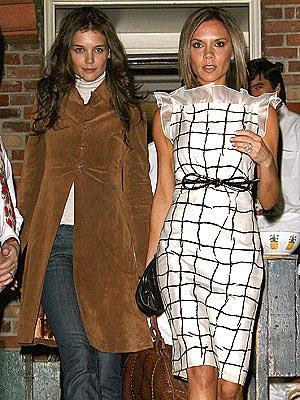 Can the ultra-European Posh transfrom her trademark style to fit into L.A.? Her impeccably put together outfits of tailored dresses and sky high heels will hardly help the Brit blend into her new surroundings when she moves to California later this year. She already seems a bit out of place at the casual Ivy restaurant — but what if Katie Holmes, the picture of all-American elegance, helps Posh get her bearings just as the fashionista helped the young mom get glam before her wedding last year? We know that Katie is a shopping pro and could help Posh acclimate to SoCal, while avoiding the L.A. stereotypes (but don't you kind of want to see Posh in a pink sweatsuit and Uggs?). Tell us: Do you think Posh will change her wardrobe to fit into L.A.? Are you excited to see more of Posh?
Click here to read more about Victoria Beckham in Off the Rack.
Photo: Henry Flores/BuzzFoto