Fashion Faceoff: Jessica Biel vs. Hilary Swank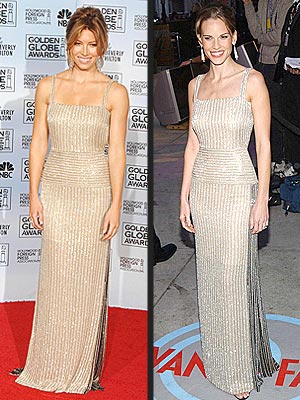 Jessica Biel was one of the red carpet standouts at the Golden Globes on Monday night in a glimmering beaded Valentino dress and intricate Lorraine Schwartz diamond earrings — too bad that Hilary Swank also looked glam in the same "vintage" dress just 3 years ago at the 2004 Vanity Fair Oscars party. Did she not note Reese Witherspoon's Chanel dress mix-up from last year's Globes? As for Valentino, reps for the house say "Valentino dresses are timeless and each woman brings to them her own interpretation. . .two beautiful actresses can be different and great even in the same dress." Tell us: who do you think wears the dress better? Would you wear a dress knowing someone had worn it to a high-profile event before?
Don't forget to visit out our Red Carpet Confidential blog for more award show news.
Photo: NCNA Photo, CATUFFE/SIPA