Red Carpet Trendwatch: White Gowns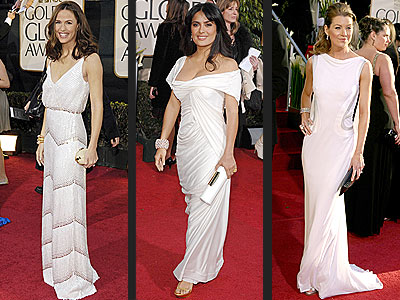 Forget Madison Avenue — last night's Golden Globes red carpet took its fashion cues from ancient Greece by the look of things. From Jennifer Garner's silver spangled Gucci to Hayden Panettiere's Monique Lhuillier gold-belted gown, the stars looked like goddesses in their long white gowns with metallic accents. Or there were those who went for clean but never simple white, like Salma Hayek, Azzaro-clad Kate Winslet or Ellen Pompeo in futuristic Versace. We expect to see a lot more ivory, creams, and just bright white with the SAGs less than two weeks away! Tell us: Do you like the white gowns? Is this a look you would wear?
Click here for more of the Best & Worst hair at the Golden Globes, and don't miss our Best & Worst Dresses gallery, too.
Photo: Chris Pizzello/AP, Lisa Rose/jpistudios, FilmMagic