Evangeline Lilly & Ellen Pompeo: What We Think They Should Wear to the Golden Globes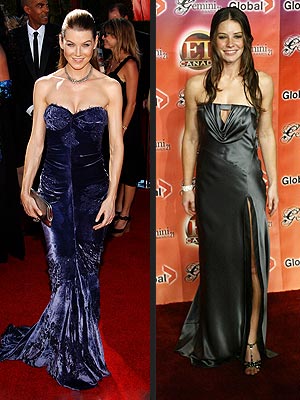 Both nominated for Best Actress in a Television Series (Drama), Evangeline Lilly and Ellen Pompeo are two of the hottest and most stylish stars on television. These primetime leading ladies never fail to wow on the red carpet, both tending to favor long, strapless dresses in jewel tones. Lost's Evangeline goes for softer, flowing shapes in muted tones — and almost never with embellishment. We could easily picture her in this cobalt Carlos Miele creation, this 24-karat Elie Saab stunner, or for a more subtle look, this navy Derek Lam gown. Grey's Anatomy's Ellen Pompeo take a little more risk, playing with beading, cutouts and proportion. She could show off her lithe form in this corseted Versace gown, go vibrant in this orange Oscar de la Renta, or play it safe in this black Monique Lhuiller frock. Ladies, feel free to take our ideas! Tell us: What do you think that Ellen and Evangeline will wear? Who do you think will look best at the Golden Globes?
For more of the latest news and gossip on the Golden Globes, check out our Red Carpet Confidential blog.
Photo: suni/gamma;flynet