What Do You Think of Sarah Jessica Parker's Outfit?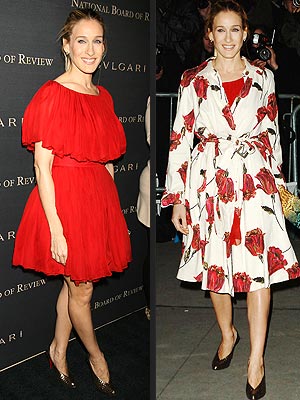 We usually adore Sarah Jessica Parker's quirky sense of style. However, we are a little confused by her outfit at the National Board of Review of Motion Pictures Awards Gala last night. The tulip-printed coat reminded some here of a shower curtain, while others appreciated its nipped-in waist. But, we all agree that the Giambattista Valli crimson frock (worn under the coat) was a flop — a voluminous peasant-dress seems more suited for a day on the beach than an awards gala. Even her Christian Louboutins look a little clunky with the outfit, and we never doubt the beauty of his shoes. Is this just a rare mis-step for the normally stylish star? Tell us: What do you think of SJP's look? Do you like the coat and the dress?
Click here to read more about Red Carpet Style in Off the Rack.
Photo: Dave Allocca/startraks;Humberto Carreno/startraks