Meet Rinko Kikuchi: Fashionista or Flop?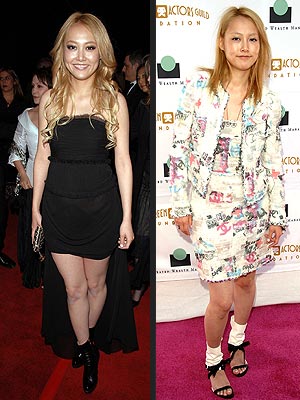 While Rinko Kikuchi's turn as a deaf-mute teenager in Babel may have won her a Golden Globe nomination, her wardrobe is speaking volumes. A former model in her native Japan, the 25-year old actress is already showing a knack for wearing high fashion with a quirky twist, and her outfits at the 18th Annual Palm Springs International Film Festival were no exception. From her black mini with attached bustle, which reminded us of Demi Moore's infamous Oscars dress, to her logo-laden Chanel suit with ankle warmers, the ingenue is definitely not playing it safe. We can't wait to see what she wears to the Golden Globes next week. Tell us: What do you think of Rinko's style? Does she need a Red Carpet makeover or is she a fashionista in the making?
Click here to see more Red Carpet Fashion in Off the Rack. And for more of the latest news and gossip on the award shows, check out our Red Carpet Confidential blog.
Photo: Stephen Shugerman/Getty(2)