Blondes In Blue Dresses: Cate Blanchett vs. Kate Winslet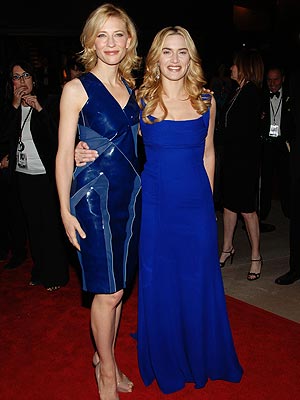 Two accomplished actresses, two Golden Globe nominees, two stunning blue dresses but two totally different styles — Cate Blanchett and Kate Winslet hooked up on the red carpet at the 18th Annual Palm Springs International Film Festival this weekend in coordinating cobalt stunners that showcased their individual looks. Always on the cutting edge of fashion, Blanchett arrived in a futuristic blue Balenciaga dress with sharp angles and patent leather insets. Winslet, on the other hand, went for simple elegance, wearing a figure-skimming Valentino gown with soft curls and minimal jewelry. We love that both actresses have such signature styles, but we can't help but compare the two frocks. Tell us: Which dress do you like better? Cate's futuristic sheath or Kate's classic gown?
Click here for even more Red Carpet Fashion on Off the Rack.
Photo: TSUNI / GAMMA / HACHETTE PHOTOS