The New Year's Eve Must-Have? Sequins!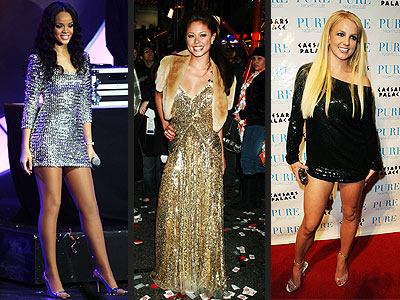 Were all these stars taking our advice on wearing sequined dresses for New Year's Eve, or do stylish minds just think alike? From Rihanna's disco-ball silver spangles to Vanessa Minnillo's 24-karat Blugirl gown to Britney's shimmering black uber-mini, the stars turned out in sparkling dresses from coast to coast. And they weren't the only ones shimmering as they shimmied the night away — we spotted Hilary Duff, Fergie, Nicole Richie and more rocking in the New Year in sequined dresses. Looks like this is one trend that is sticking around for 2007. Tell us: What do you think of the star's sequined dresses? Would you wear them?
To read more about Britney Spears in Off the Rack, click here.
Photo: Bryan Bedder/DCP/Getty;roger wong/inf; Judy Eddy / WENN