Fashion Faceoff: Eva vs. Lindsay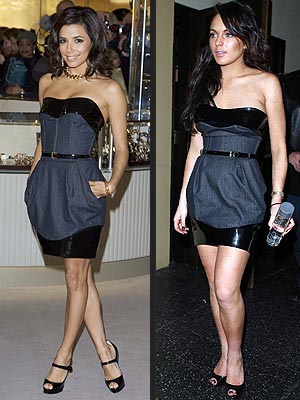 Hmm, a petite brunette star who is photographed all the time and makes as many headlines for her personal life as for her acting roles. . . could be either Eva Longoria or Lindsay Lohan, so it makes sense that they might share the same taste in clothes as well! Lindsay Lohan hit an L.A. club (water in hand) the other week wearing a sexy Dolce & Gabbana minidress, while Eva Longoria wore hers to open the big winter sale at Harrod's in London. We think they both look pretty darn good in their minis, but you tell us: Who wears it better? Eva or Lindsay?
To see more Fashion Faceoffs, click here for our Gallery to see stars like Penelope Cruz, Vanessa Minnillo and more.
Photo: INF;AlphaX/X17