Wow! Paris Hilton's Got a $2250 Beach Bag.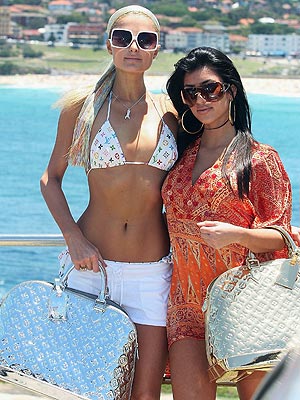 Paris Hilton has never been one to shy away from a logo — her wardrobe of Chanel purses come to mind — but this week, she has outdone herself. While hanging out on famed Bondi Beach in Australia, Paris not only donned a signature-print Louis Vuitton string bikini but also carrying one of the brand's logo-laden bags (as did BFF Kim Kardashian). The Monogram Miroir Alma bag is actually the Louis Vuitton "it" bag of the season, selling out everywhere in America in spite of its whopping $2250 price tag. We can't imagine carrying anything that expensive, much less to the beach! Tell us: Would you carry a $2250 purse to the beach? Would you wear that bag at all?
To get the full scoop on Paris Hilton, click here to read more in Off the Rack.
Photo: Paul McConnell/Getty