Mariah-Oh-Meter: Rate Her Snow Look!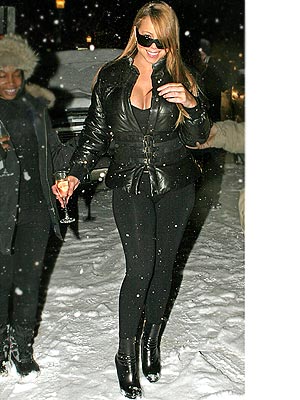 In pure Mariah style, the singer braved the snowiest night in Aspen Wednesday to party with friends and family. Carey kept warm in a very tight leather jacket, second-skin black pants, high heels and dark oversized shades. (So what if it was at nighttime — and snowing?!). We love how delicately she carries her glass of champagne through the flurries. What a trooper! On a scale of One being Congresswoman conservative, and Ten being ready for her video vixen close-up, we'd give this look a Six. Afterall, she's gonna get a serious draft unless she zips up more! Tell us: On a scale of one to Ten, how would you rate Mariah's oh-factor in this look?
To see more Mariah in "Off the Rack" click here.
Photo:Ginsburg-Spaly/Splash News