What's It Like To Dish Beauty With Iman?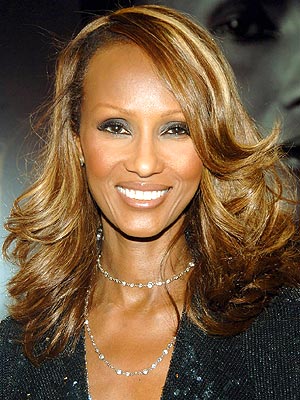 "Iman's here to see you." Right, just another Tuesday in the office. Recently, former supermodel (and wife of punk god David Bowie), Iman stopped by my office to show me the new spring products from her mega-hit makeup line, Iman. First of all, is it possible that anyone is that gorgeous? Her skin is flawless — like it was airbrushed — and she looks not day over 30. I swear. My favorite product from the new spring line is the St Tropez Face Kit, a bronze-y, shimmery selection of eye shadows, blushes, lip glosses and a cream bronzer in a fits-in-your-purse palette. But my all-time favorite still her lip gloss in Impetuous. We chatted, compared Red-Eye-from-LA horror stories, and, two air kisses later, she was gone. You'll have to wait 'til February to get the spring line, but check out her current collection at Walgreens.com. –Elizabeth Lamont
Click here to get more star beauty tips in Off the Rack.
credit: Wenn