Dogs In Strollers? Tori Spelling Practices On Her Pooch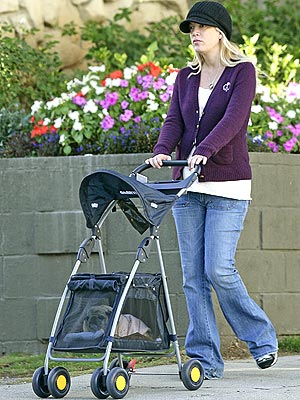 We've seen Tori switch up her maternity style from hippy to vampy, but now she's testing out baby-like accessories — this time, taking her dog out for a spin in a stroller! While out walking with husband Dean McDermott and two other pooches (who walked on the ground), Tori pushed her pug Mimi La Rue in a mesh-sided stroller. Is the pug too pooped to trot or is Tori feeling out what being a mommy is like? Guess she'll find out soon enough when her baby boy arrives in the new year.
For the whole scoop on Tori in Off the Rack, click here. And for more on other star mommy-to-be's, click here.
Photo: Flynet