Britney Spears Still Loves A Little Black Lace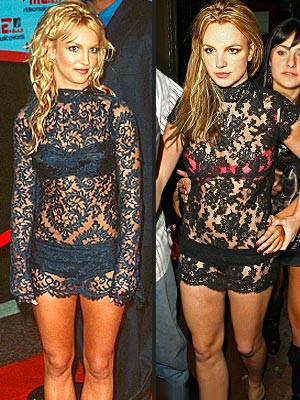 Is Britney's style more consistent than we've realized? We've been busy concentrating on her ever-evolving hair — short, long, blonde, brown — but Britney's lacy mini-dress from this weekend looked awfully familiar. The pop princess wore a similar Dolce & Gabbana mini, showcasing her undies and toned tummy, to the VMAs all the way back in 2001. Is this just a case of the more things change, the more they stay the same? We continue to be impressed with her post-baby body, but we certainly prefer her covered-up look.
Click here to read more about Britney Spears in Off the Rack.
Photo: ALEC MICHAEL/GLOBE; AlphaX/X17